Gabriel Pizza's Team of the Month (Oct.) – Skoal Bandits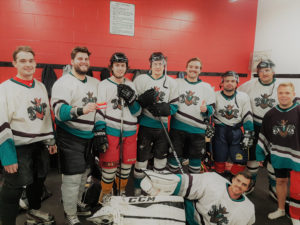 Congratulations to the Skoal Bandits (D3), our Gabriel Pizza's Team of the Month for October! After posting the lowest PIMS in their division, they started the season off undefeated in the top division in the CRHL. Although some of their team members have come and gone, the Skoal Bandits have been a mainstay in the CRHL for many seasons, consistently displaying great teamwork and a strong competitive spirit.
Cheers to the Skoal Bandits!
As part of the Team of the Month promotion, the team will receive a $50 gift card to Gabriel Pizza. Gabriel Pizza has been a part of the Ottawa restaurant landscape since 1977. Gabriel Pizza is locally owned, and can be found across Clarence Creek, Embrun, Kemptville, Stittsville, Barhaven, Kanata, and Orleans.