BEST IN THE WEST – NO EARLY BIRD PRICE INCREASE
"Our team joined the CRHL for the first time in the 2015/2016 winter season. The CRHL website has been very easy to navigate and the convener has been a great resource. His quick response to any questions or concerns has made playing in the league a breeze. We couldn't be more happy with our decision to move to the CRHL." – Matt Picciano, Bardown Bandits
Summer 2017 Registration Information:
Registration Deadline:

April 27

;

minimum $500 deposit due with registration


Early Bird Deadline: 

April 27


First Games: 

May 1
Summer 2017 Season Perks:
Ottawa 67's Promotion: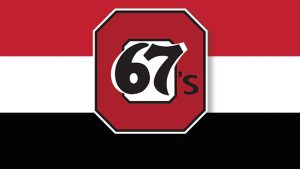 Any team representative that registers his team in the month of February with the minimum $500 deposit will be put in a draw for FIVE PAIRS of Ottawa 67's tickets in March (5 team representatives will win). Paying the early bird price in February will GUARANTEE yourself a pair of tickets to the game of your choice.
Games are:
March 4 vs Kingston
March 5 vs Barrie
March 15 vs Peterborough
March 18 vs Oshawa
March 19 vs Hamilton
The Convenor will touch base via phone March 1st to notify winning team representatives. Tickets will be under team representative name at will call.
Scheduling:
Summers are a busy time for everyone, whether it's playing another sport, music festivals, vacations, long weekends, or family time. The CRHL understands this and knows that time with friends family and time outside the rink is incredibly important:
No games on long weekend Sundays or Mondays (May long, Canada Day, August long)
No games Father's Day
The Convenor has the ability to reschedule games
All teams with the ability to take off one day during the week except Sunday

For example, if the majority of your team plays baseball every Tuesday evening, you can request Tuesday off
More specific dates can be requested but enough time has to be allowed to allow changes to be made!
Partner Benefits:
Get benefits you'll actually use!
Pro Hockey Life:
Every CRHL member is invited to take 20% off regular priced merchandise on a set date
Summer 2017 Registration Information:
Games played at: Bell Sensplex, Goulbourn Recreation Complex, Nepean Sportsplex, Carleton Ice House & Bob MacQuarrie Complex
19 Guaranteed games, (3 Exhibition, 12 Regular Season, 4 Guaranteed Playoff)
There will be no dedicated East division.
Summer 2017 Season Information:
Base Team Fee: $4,825
$500 immediately upon registration
$2,325 by May 8
$2,000 by June 9
Early Bird (pay in full by April 27th): $4,625, best value in the city, no price increase from last summer!
Multi-team discount: all team reps with more than one team will receive another $100 off for every team they register after the first team!
Pay by post-dated cheques: mail cheques to 1445 Stittsville Main St., P.O. Box 434, K2S 1A2
Pay by email transfer: Click to view e-mail
Pay by credit card: login and click myCRHL in the top right corner!
For new teams without a unique login, use the form on the LEFT. This will create a username and password so you can access the credit card gateway.
For returning teams use the form on the RIGHT. You can update your information using this form. Using the form on the left will give you an error.