Expected Summer Registration & Season Information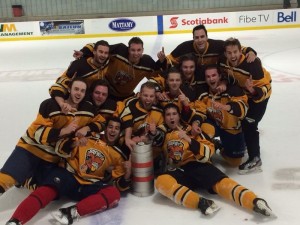 Although it feels and looks nothing like summer outside, the CRHL would like to announce its registration information for the 2015 Summer Season. This information is subject to change should circumstances change.
SUMMER 2015 SEASON INFORMATION:
Season runs for 19 weeks: End of April to Middle of August
19 guaranteed games: 3 exhibition games, 12 regular season games, 4 playoff games

Additional playoff games include Conference semi-final, Conference final, and best-of-2 Divisional Final
Potential for 23 games!

West games are expected to be played at Kanata Recration Centre, Goulbourn Recreation Centre, Nepean Sportsplex, & Bell Sensplex
East games are expected to be played at Fred Barrett Arena, Bob MacQuarrie Complex & Richcraft Sensplex
No games long weekends
League tweaks:

2 assists on goals
Blue line icing (keep the games moving, less whistles)
Slightly longer periods
40+ Division
Significantly fewer 11pm start times for 2015 Summer season

And yes, you still get a keg for winning the Divisional Championship
New teams will receive CRHL water bottles, pucks, and a carrier; Returning summer-only teams are eligible too! 
Additional sponsorship benefits and corporate partners will be announced at a later date
SUMMER 2015 SEASON REGISTRATION:
$4,500
$500 due immediately upon registration
$2,000 due May 31st
$2,000 due June 26th
$4,400 if paid in full by Thursday, April 30th
Taxes included.